Agile project management for lawyers: Scrum vs. Kanban – a comparison
The goal of agile methods in project management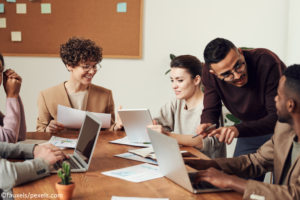 We already dealt with the question of the extent to which agile methods are suitable for legal work and what opportunities they open up in our article Scrum for Legal Professionals. The goals are the same: optimize processes, shorten lead times, increase efficiency, save costs. All of this is also possible in legal departments and law firms, but it requires a change in thinking.
In all Kanban approaches, the focus is on optimizing the entire value chain. While Scrum primarily focuses on the optimal production of a deliverable part, Kanban focuses on the entire process and thus all production stages.
Shorter production and throughput times and higher efficiency are the result. Thanks to specific metrics, efforts and times can be reliably estimated. The work with the customer can thus be very well integrated and controlled. Customer satisfaction and experience combined with reliable statements – especially in the context of digitalization, this plays a decisive role.
The principle of continuous improvement
Similar to Scrum, the success of Kanban is based on a continuous improvement process. Week after week, data is measured, collected and evaluated. On this basis, suggestions for improvement are developed and passed on to the teams. The tools of the Kanban methodology must evolve over time: The iterative and experimental approach is intentional and essential for success.
In the service industry, Kanban is used to define, manage and improve systems that provide value-based services to customers. Accordingly, Kanban is almost perfectly suited for law firms and legal departments – regardless of size – as an organizational principle and continuous optimization model.
The longer one works with the continuous improvement method, the more stable the results will be. Our explanations give you a first impression of how Kanban can work in everyday legal work. As with Scrum, many aspects and a steady flow of work must often first be integrated into the work culture of the organizational units. For such a culture change, a change in thinking and willingness to change is essential.
Read the full article in English in GoingDigital magazine issue 3/2021. The online magazine looks at the technology-driven transformation of the legal scene and provides exciting insights into topics such as digitization, online security and data protection.
Further links