The ESCRIBA Integration Server is certified as "built on SAP Cloud Platform"
This connector is the link between the ESCRIBA software and various backend systems, such as SAP ERP, SAP S/4HANA, SAP SuccessFactors, Workday, or d.Vinci. We offer an unparalleled integration technology that allows data from the backend to be read and also rewritten. In this way, we adhere to the Single Source of Truth principle and eliminate media interruptions and error-prone manual data transmissions.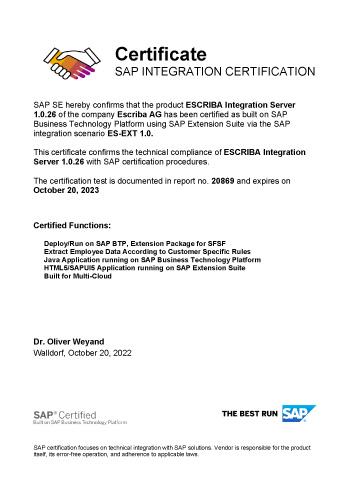 The SAP Integration and Certification Center has verified that the ESCRIBA Integration Server 1.0.26 has been built on the Business Technology Platform (BTP). Partner applications built on BTP provide Cloud-native functionality for SAP SaaS solutions like SAP SuccessFactors, SAP Fieldglass®, and SAP S/4HANA®.
Learn more about ESCRIBA's integration options here.